The Table supports these important efforts:
Habitat for Humanity's Build for Unity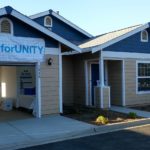 Build for Unity is a multifaith build program and effort by Habitat for Humanity of Greater Sacramento to bring people together of different backgrounds and faiths to put aside differences and build homes and unity in our community. In 2017, the Table gifted $10,000 to Build for Unity to begin the effort and then an additional $5,000 gift was given from our community in support. We've sent teams throughout the year to build 2 homes side by side in North Sacramento. We hope to gift an additional $10,000+ in 2018.
Tubman House offers 18 months of housing & support so Sacramento's homeless parenting or pregnant youth and their children can get busy living rather than surviving. Young parents experience healthy living, intensive case management, parent coaching, & educational support.
Imagine No Malaria is an initiative of The United Methodist Church to raise $75 million to end preventable deaths from malaria in Africa. This comprehensive approach empowers the people of Africa to improve health infrastructure & achieve sustainable victory over malaria.
Pride Parade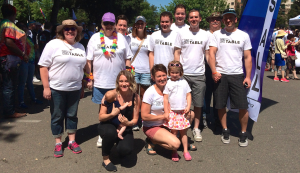 The Pride Parade is a fabulous way to reach in love.  Join us each year as we…
Walk with family and friends.
Pass out candy and All Means All stickers.
Meet new people & witness to God's unconditional love…All Means All.
Winter Sanctuary
The Table at Central UMC offers radical hospitality to around 120 unhoused guests each winter.
Sacramento Steps Forward describes Winter Sanctuary in this way: Winter Sanctuary is a rotating, nightly, interfaith shelter that operates during Sacramento's winter months…Each winter in Sacramento, cold and wet weather conditions threaten the lives of the approximately 1,200 homeless men, women and children sleeping outside. County budget cuts have significantly decreased Winter Shelter funding, creating a crisis. While limited public funding was allocated to serve homeless families, homeless single adults were left with very few options. Without a warm, dry, safe place to sleep in the winter, people who are homeless are at an even greater risk of illness, injuries and death.
Bright Underbelly is a game-changing 70,000 square foot mural that wrapped the gray cement of the Capitol City Freeway's W/X streets underpass with color. Bright Underbelly will bring a much-needed warmth & a sense of permanence to an established community-gathering place, befitting California's largest Certified Farmers Market.